European touches and marble elements add sophistication to this living space.
In one of the most prestigious corners of Makati stands the Kirov Tower—one of five skyscrapers that comprise the Proscenium at Rockwell. From the outside, it's easy enough to see why these five tall towers are special. They are, after all, the work of world-renowned Uruguayan architect Carlos Ott, designer of the Opéra Bastille in Paris. But step inside and it's clearer that each of the Proscenium's towers bears its own unique design, inspired by the great theaters of the world. (The word itself, "proscenium," refers to a part of a theater stage.)
In the case of the Kirov Tower, that inspiration came from Russia. Specifically, it came from the beautiful Mariinsky Theater in St. Petersburg, which was formerly known as the Kirov Theater.
Named in honor of Maria Alexandrovna, wife of Alexander II, the Mariinsky Theater rose in St. Petersburg, as a prestigious institution in an area where many of Russian theater's great traditions were developed. Among the more famous works shown in the Mariinsky is Tchaikovsky's The Nutcracker, as well as his adaptation of Sleeping Beauty. Suffice it to say that from its conception, the Mariinsky was home to theater arts at the highest level.
Now, think of the same Mariinsky Theater as your very own home. Inside and out, the Kirov Tower exudes the Mariinsky's energy, with its traditional European style: Warm lights, earth tones, marble slabs for the reception desk and floors, and Bessarabian carpets, as well as antique furniture and art displays.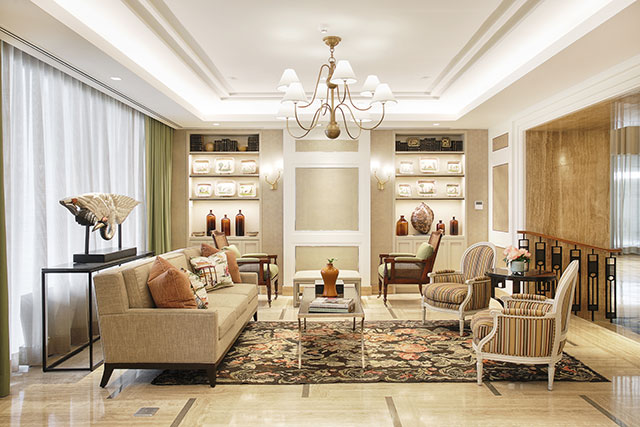 All of these, of course, complement the Kirov Tower as a living space par excellence. It has amenities such as a function room, private dining area, lounge, library, and gym. Also, more literally, the Kirov Tower is a stone's throw from an actual theater that is set to rise within the Proscenium.
Units in the Kirov Tower are also the perfect canvas for carving out a space above history. Its three-bedroom, 241-sqm unit in particular is something to behold. It has a powder room by the foyer, an interconnected dining area and living area in one extensive space, and a balcony that gives you an amazing view of the Metro Manila skyline. Its kitchen space is also complete with a double-door fridge as well as a counter space directly adjacent to it. Check it out:
Living in the Kirov Tower situates you within a work of art that references Russia's historic accomplishments in the theater arts. But also, it is, on its own merits, an incredible place to live by the highest standards, and to pursue a life of refinement, culture, and sophistication.
The Proscenium at Rockwell is located in Rockwell Center, Makati City. For more information, visit its official website or contact 8-248-8600 and 0917155ROCK. You may also follow The Proscenium At Rockwell on Facebook for updates.
Source: https://www.esquiremag.ph/culture/arts-and-entertainment/watch-this-makati-skyscraper-takes-design-cues-from-the-kirov-theater-in-russia-adv-con